Wizarding Art Camp
Boy oh boy was this ever a fun couple of days! This past week, I took over the adorable Bookhouse Studio here in Fort Wayne, IN to create the temporary location of Hogwarts America (well- protected by memory charms, of course). A lucky few students were accepted into the program, and we spent a solid 5 hours in Hogwarts heaven, busy with all kinds of magical, artsy fun.
I wanted to give you all a sneak peek into our day, and show you some of the fun projects that you could totally recreate at home!
The Studio
We were working within a small space, so I only accepted 9 students per day into Wizarding Art Camp. We had one giant table in the middle as our main work space:
Two long tables off to the side for me to prep projects:
And several work stations set up around the room for students to access throughout the day:
Potions Practice
By far, the most popular station was this "Potions Practice" table. Baking soda, vinegar, and food coloring will entertain kids for a looooong time. I gathered interesting looking bottles from thrift stores, tiny cauldrons from clearance after Halloween, and some handy pipettes. You can find all kinds of free printable potions labels online for extra fun!
Owl Post
Parchment paper, envelopes, stamps, and "wax" seals (red air dry clay) let students send some pretty legitimate looking owl post.
Study Table
Harry Potter themed mazes, quizzes, word searches, and coloring pages filled our "Study Table."
Divination Area
Hogwarts Prep
Before we even got started with classes, we had all kinds of prep work to do!
We started off our day with some sorting hat fun! Most kids came in knowing which Hogwarts House they'd like to be in, but these activities were fun ice breakers to get to know one another and ease into the day. Here are the links I used:

Notebooks
You can't attend Hogwarts without the right supplies! Each student received a plain notebook to decorate and keep "notes" for the day.
House Bags
Using a simple tape resist technique, everyone created their own amazing house bag to help tote everything home!
Quills
Every good Hogwarts student needs their own writing quill. This was absolutely one of the easiest projects, but it turns out so cool! Wrap a goose feather on a cheap pen using fun washi tape, and voila! Your very own writing quill!
The wands I created for art camp were super simple, but they did take some prep work, which I completed ahead of time:
chopsticks

marble

hot glue (lots of it!!)

white spray primer
Once the wands are primed and dried, they're ready to be painted… don't forget to fill out your wand permit!
The Classes
Herbology
We made "baby mandrakes" with nylon socks from the dollar store, grass seed, dirt, and tiny pots!
Potions
You can never go wrong with slime, right?? It's sure to be a mess, but also sure to be a big hit with kids of any age. So here's my official "Draught of Peace" recipe from potions class:
1 bottle syrup of hellebore (4 oz glue bottle)

1/2 cup pure water

1/2 tsp. powdered porcupine quills (baking soda)

1 TB liquid moonstone (saline solution)

several shakes of unicorn horn (glitter)
Charms
I found this fun beginner's guide to wand motions HERE , and the kids had fun practicing their charms during lunch break. We used "practice" wands (extra chopsticks) since their painted ones weren't dry yet.
Defense Against the Dark Arts
We created some totally gorgeous Patronus paintings for Defense Against the Dark Arts, coloring our animal forms with wax pencils before painting over in blue and purple water color. A few sprinkles of salt give the paintings an extra magical touch!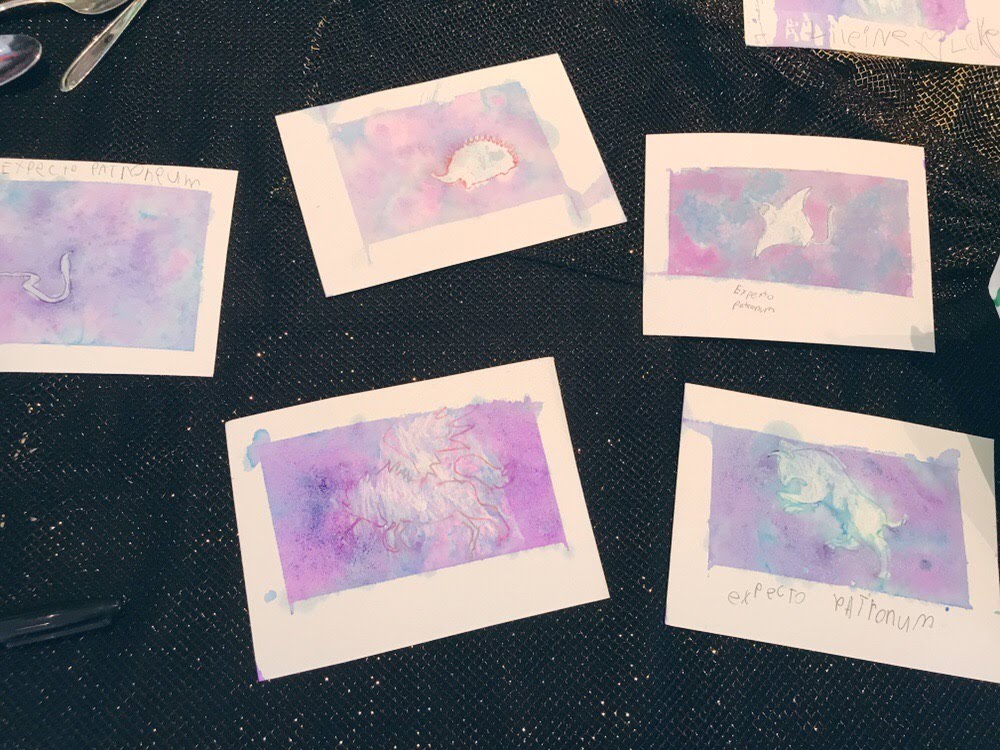 Oh, and let's not forget the Dementor Relief chocolate bars! (FREE PRINTABLE)
Care of Magical Creatures
Of course we had to fit dragons into Wizarding Art Camp somehow…. so we created our very own dragon eggs! Using a foil base, we wrapped our egg shapes with air dry clay, and decorated with all kinds of beautifully magical bits and bobs.

Wrapping it up!
We ended the day with a special O.W.L. exam, Art Camp Edition… test your knowledge!

And, of course, a certificate of magical merit….
I could probably sleep for about a week now, but it was totally worth these absolutely magical days!